Description
Mausoleum of the Medusa is a love song to brutal, old-school arena combat. Perseus and Medusa are trapped in a deathmatch--but the gods raise them from the dead! Put on a good show to break the cycle and be rewarded! Medusa is a passion project by two guys in love with Dark Souls, the original Legend of Zelda, pixel art, and Clash of the Titans!
History
Drew K. and Dan Cullen had never made a video game before this. The intention was to make a quick demo in 6 months. Eventually, this grew into a full game over a 2 year development cycle.
Features
Old-School Depth meets Modern Design
Free! (not freemium)
Tactical Gameplay
Runs on Windows, OSX, and Linux
All-original pixel art, music, and sound design
Logo & Icon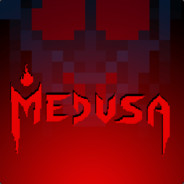 About New Hell Studios
Boilerplate

New Hell Studios is a game studio out of Brooklyn. Drew K. runs the show and collaborates with his friends.

More information

More information on New Hell Studios, our logo & relevant media are available here.
Mausoleum of the Medusa Credits
Drew K.

Daniel Cullen

Art, Story, Design

Alex Barnhart

Mat Lundin

Brook Yacob
Contact
Drew K.